Let's talk about a VPN.
Everybody knows what a VPN is right? If you connect to the internet, . When you switch on a VPN, it creates an encrypted tunnel between your computer and a server controlled by the VPN service. All your web traffic is routed through this tunnel, meaning that no one, not even someone on the same network as you, can sneak a peek at your data. It also prevents malicious network operators from intercepting your information, or using DNS poisoning techniques to trick you into visiting phishing pages.
Half the people I can see give the oh shit 360 when I talk about a VPN. Their stance is the old "If you haven't got something to hide then there's nothing to worry about". I haven't been able to crack that kind of "logic" successfully because I don't think users realize how much data is exchanged when you PC is even at rest.
Be that as it may, I personally wouldn't fire anything up that communicated with the internet or telecommunications network without one. I have a VPN on every one of my computers and on my Android phone as well. So I guess by the above logic, I have everything to hide which is just fine with me.
There are a shit ton of VPN to be had. Which one is the right one? Which one is the best value? Which one is pretty much a set it and forget it type deal?
First off, free VPNs are trash. Sorry if you use one. Additionally, the software offerings that say they will "hide" your ip are for the most part trash as well.
What are some things to look for when shopping for a VPN?

>Software manufacturer should offer a PC and mobile app. 
>The ability to have multiple simultaneous connections. My desk top and lap top and tablet all running the same VPN.
>Amount of server connections offered and diverse as far as geographical location.
>Advanced features such as different encryption tables, ad blocking, kill switch, etc.
>No log policy or servers based outside of the 5 Eyes countries which is rare so settling for no log policies is a good choice.


Here are some of the VP I have or still do use in no specific order.
1. NordVPN: ( httpss://nordvpn.com )Meets all of our above criteria. Access over 1000 servers worldwide, No logs policy, Connect 6 devices at the same time, High-speed unlimited bandwidth $70 per year of service.
2. PureVPN: ( httpss://www.purevpn.com ) Meets our criteria. 141 total countries, 180 locations worldwide, 750+ VPN servers online, no log policy. $80 for two years
3. Private Internet Access VPN: ( httpss://www.privateinternetaccess.com ) This is my favorite and the one I have used for many years. It meets all the criteria, no logging, has ad blocking features, can chance the encryption keys, service is great, and all for $40 a year. It's also DD-WRT compatible.
So there you go. You have no excuse for running around the internet naked.
OK Those cost money so here's something that's free, and maybe you can get some use out of it.
If you have ever moved files from one HDD to another and found out that there were filenames that were way to long for windows to handle, I have a fix. It's odd to me that Windows would make a filename longer than it was able to move....kind of like the old circular reasoning of "Is god so powerful that he can make a stone so big even he can't move it".
Anyways, here are two free small pieces of software that can help.
1. Long Path Fixer: ( httpss://goo.gl/jJHBRD )It's a portable app so you can put it on a key ring and take it anywhere. I love portable apps and have a drive on my key ring that has emergency repair apps, and a plethora of other portable, useful stuff. Operation is pretty straightforward. Launch the app and choose which file(s)/folder(s) you want to move, copy, or delete and choose where to move or copy them to.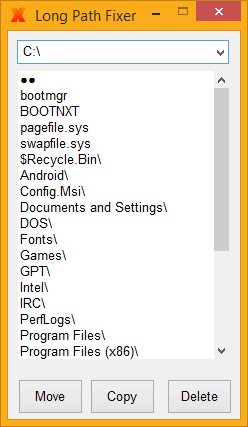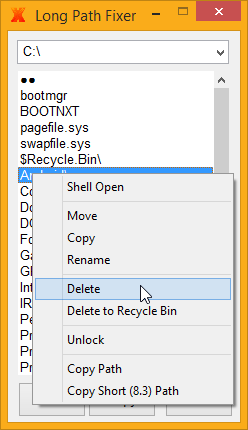 On the same page, and working in conjunction with Long Path Fixer, is yet another small, portable app called LockHunter. I'd suggest you download it as well. Lock hunter will "unlock" files that are in use by windows or any other program making them ready to move. ( httpss://goo.gl/qDFEsv )