Our household has been getting healthier lately. My wife has been hitting the gym almost daily. My daughter went pescatarian recently, which has forced a necessary change in my meal planning for everybody. I have been working as a baker for the past few months, which means I am on my feet all day, plus it's HOT, so I'm not hungry through the day. I've dropped 30 pounds and am in much better shape.
My wife went out of town Thursday, and yesterday I took Freyja to stay with my mom for a few days during her spring break. I also took the dogs in for their annual comprehensive exam & a dental cleaning, so they were anesthetized all day. In other words, anybody that would normally in some way intrude on my existence was either absent or drugged. Time for an exercise in self-indulgence. In the past I would have grilled something gigantic & torn it to pieces with my hands while sitting on the couch in my underwear. Not this time. I wanted something nice. I wanted to treat myself.
The menu:
Meat: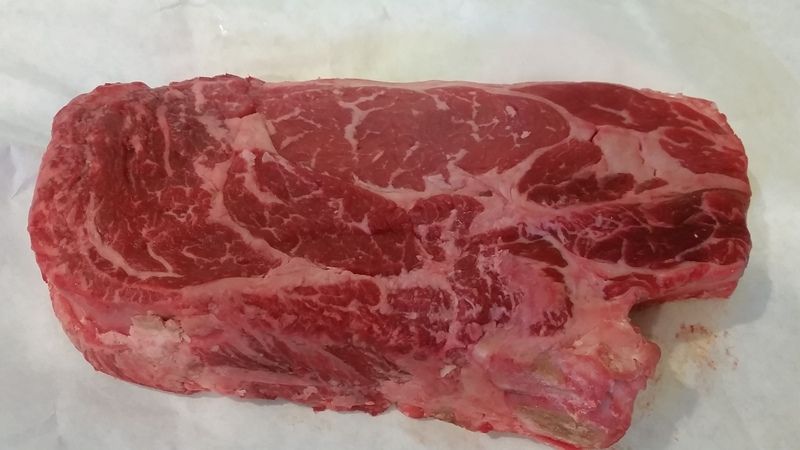 20oz top choice, bone-in ribeye. The picture is crappy & washed out but it was a beaut. Sioux would probably have some criticism for the butcher but I was happy with it.
Wine: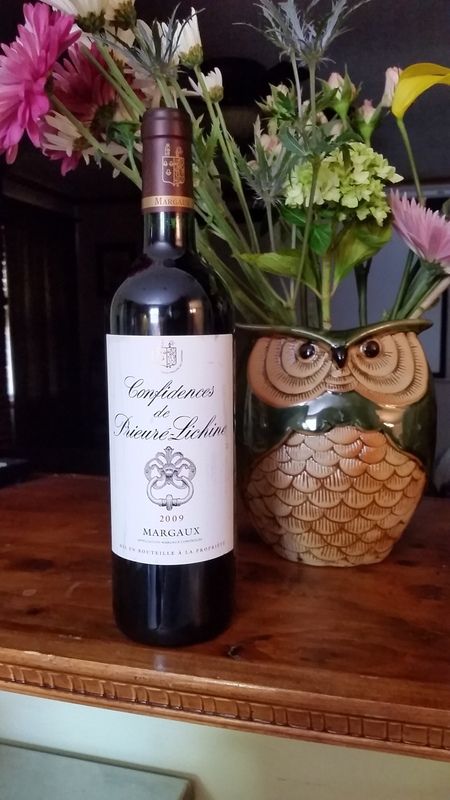 A giant slab of quality cow cries out for something from Bordeaux. I picked up a number of bottles a few years ago from the 2009 harvest, as it was such a good year that even the less pricey bottles were really good. According to a couple of online sources I watch, this one is in the best shape right now. Since it is still a little closed & the tannins are still kind of sharp, I decanted it at 3:40 in anticipation of pouring at 7:30 or 8:00.
Table: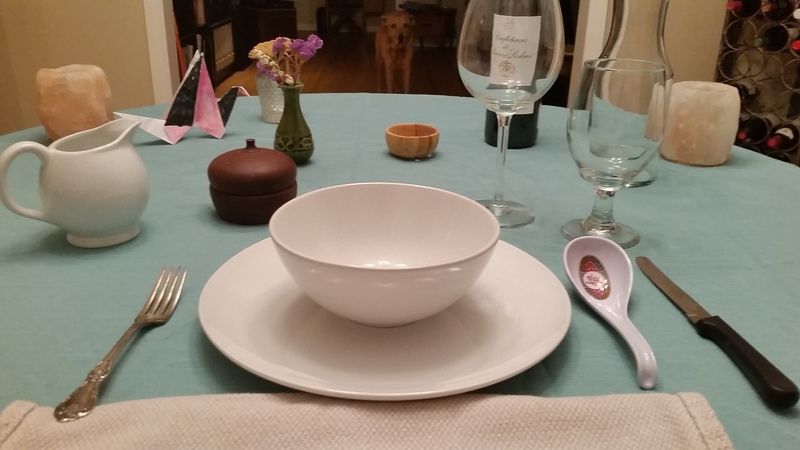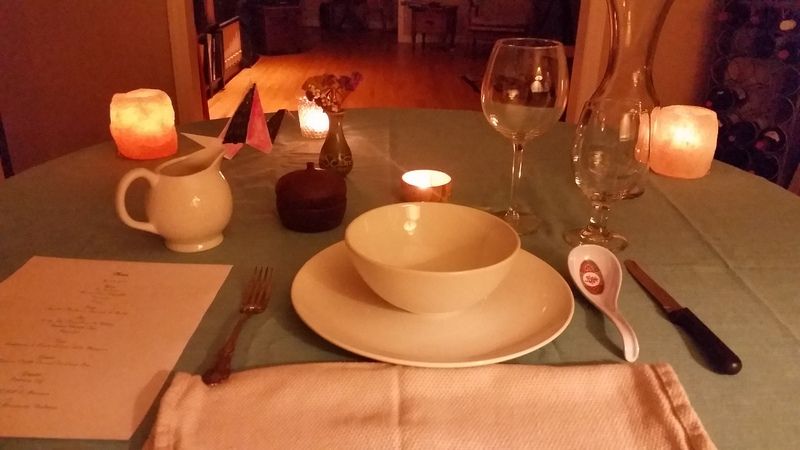 A table for one means I get to use the whole thing. I was in a sentimental mood yesterday, thinking about many of the people who are important to me, so I decided to include them in the table setting. The dry flowers from my wife & the origami crane from Freyja, because they are with me always, no matter how many miles separate us. The custom made salt box & small wooden bowl used as a candle holder, both made by my close friend Chainsaw, to represent those who are dear to me regardless of how rarely we see each other.
I have no pictures of the apero, since I had it while cooking.
Soup: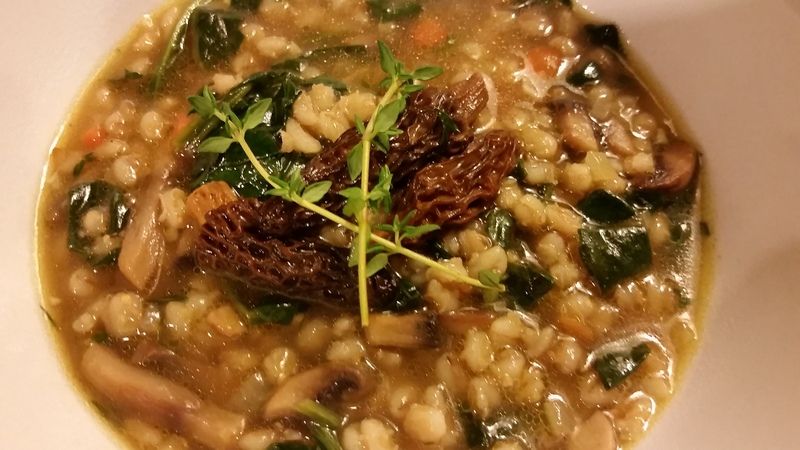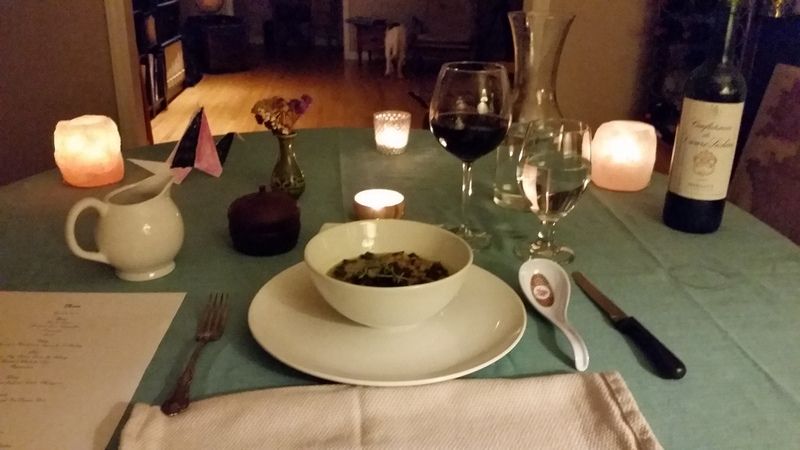 I sort-of improvised it. I cooked some mushroom stems & trimmings along with a little ginger & parsley into a broth, which I filled out with a touch of Better Than Bouillon chicken & beef concentrates. While some barley simmered away in that, I sautéed a mirepoix mixture with shallots & set it aside, then cooked some matchstick-cut white mushrooms & added it to the mirepoix. I also soaked three dried morels in cheap brandy. When the barley was almost finished, the vegetables were stirred in & given some time to get to know each other. Then I added quite a lot of roughly chopped spinach & chopped, fresh thyme. It needed some bitterness. Endive or radicchio would have been ideal but I had spinach, so I used enough of it to give a pronounced bitterness. To finish, I added the brandy the morels had soaked in, along with two small pinches of French five-spice & some white pepper. This almost overshadowed the steak, it was so good.
Main: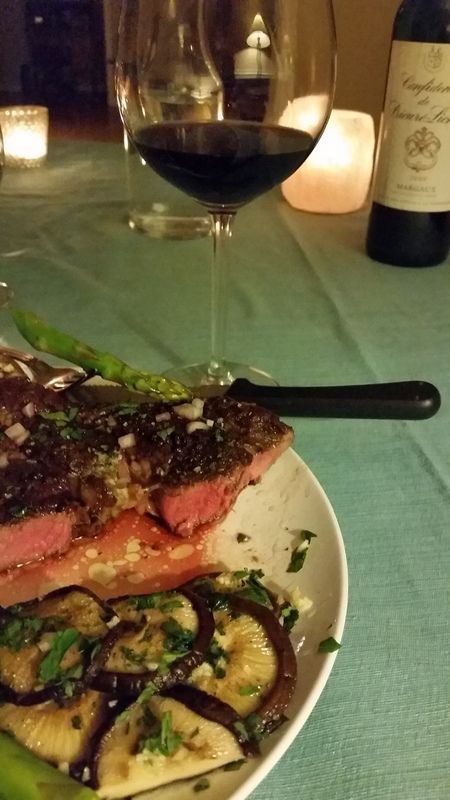 The shiitakes were cooked over low heat, gills down, in a little bit of olive oil while I ate the soup. Turned them over while cooking the steak, added salt, pepper, garlic, & more olive oil, increased the heat, then finished with a bit of parsley. The asparagus was simply rinsed, then cooked briefly in the microwave before plating. The steak went into the sous vide setup for two hours with salt, four sprigs of thyme, and a goodly amount of cracked pepper, then cooked in cast iron at high heat with a blow torch assist, in a mixture of bacon fat & butter. I finished it with some minced shallot, parsley, & tarragon, as well as a large pat of really good butter. It got a generous helping of finely ground pepper & coarse, French sea salt at the table.
The soundtrack while prepping & cooking was provided by Karma to Burn, then Weather Report. The dinner soundtrack was a mix of Wes Montgomery, Dave Brubeck, Art Blakey, and Miles Davis.
I wanted to put on a nice shirt & a tie to eat it, but since I was cooking with violence between courses, I decided not to risk getting grease stains on my good clothes. An apron can only do so much.
In the end, this meal beat me. I couldn't finish. I have a great plate of leftovers in the fridge, as well as half of that WONDERFUL wine but I am still not hungry. I did have dessert later, with the Armagnac, followed by a short pour of the rum.